Art Therapy can be helpful for individuals with a variety of issues such as anxiety, depression, trauma, grief, poor coping skills, anger, lack of motivation and fear. It provides a safe, secure environment in which art materials can be used as a means of non-verbal communication to access and express possibly unconscious or inexpressible thoughts, feelings and memories. It can therefore enable connections to be made with the conscious mind and so provide insight and more self-awareness. Greater understanding can lead to healing and transformation, as well as building self-confidence. Drawing skills or experience in art is not necessary, just willingness and an interest in using the materials.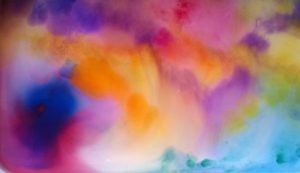 Before starting art therapy sessions I would need to meet you in order to explain to you in more detail about Art Therapy, to assess your needs, and to answer any questions you may have. Group or individual sessions will then be offered. Most people find art-making rewarding and often feel more relaxed afterwards. You have the choice to talk or not as you wish, but anything which is done or said in the sessions is treated confidentially. Likewise your art work is regarded as confidential material and stored safely. It is yours to take home when you finish therapy and can be a helpful reminder of the journey you have been on.
A typical 60 minute session may begin with a brief conversation about what issues or thoughts you bring to the session and then you will be invited to begin art-making. Time is allowed for discussion of your art work and experience in order to increase your self-understanding and integrate any unconscious material which may have been revealed.
Individual session donation £40 an hour in  line with current professional fees for therapists. Please contact me to arrange an initial assessment.